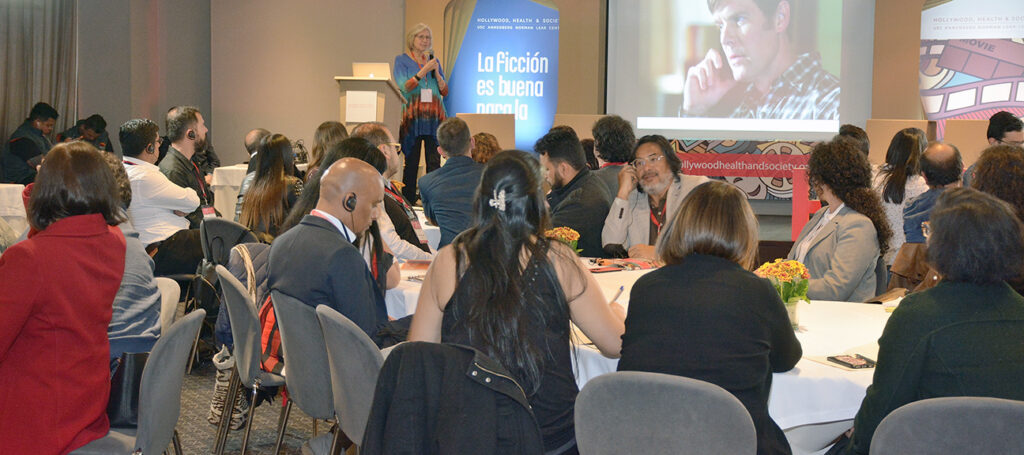 Hollywood, Health & Society (HH&S) launched its third entertainment partnership in Colombia in October 2018 under its Creative Alliance for Global Health & Sustainability. The new global center, based in Bogotá, Colombia, uses health-related topics in popular entertainment to improve the lives of television and movie viewers.
Similar joint projects have been established in the creative capitals of Mumbai (India) and Lagos (Nigeria). These global centers draw on HH&S resources and conduct outreach to increase the accuracy and frequency of health-related topics in television programs and movies. HH&S has over a decade of experience and established partnerships with hundreds of entertainment, public health and multilateral organizations.
The launch of the Colombian partnership included panel discussions and storytelling workshops in Medellín and Bogotá with representatives from the country's entertainment industry. An international team of writers and producers from TV and film, led by HH&S Director Kate Folb, conducted the events. The group featured Brent Miller, executive producer for the Netflix series One Day at a Time, and head of production-development for Norman Lear's Act III Productions; Daniel Barnz, a writer-filmmaker and director of Beastly (2011), Won't Back Down (2012) and Cake (2014), starring Jennifer Aniston; Kathleen Bedoya, a TV writer-producer specializing in the Latino entertainment market, and co-creator of the Emmy nominated East Los High on Hulu; and Indira Paez, a head television writer at Telemundo.
"We're thrilled to be able to bring what we've learned about social impact in the U.S. to our partners in Colombia," Folb said.