2017 Sentinel Awards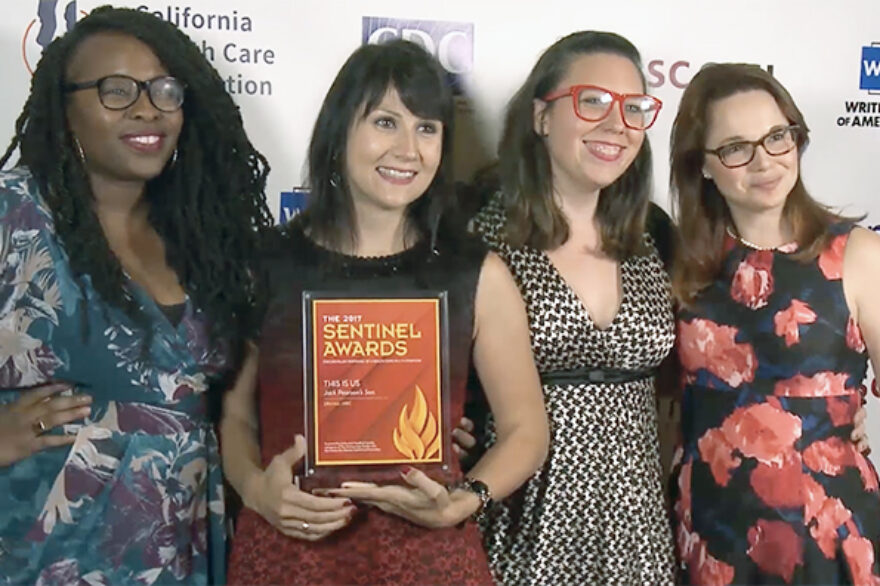 Eleven honorees in seven categories were recognized for outstanding TV storylines at the 2017 Sentinel Awards, a glittering red-carpet event held in Hollywood that featured celebrities, writers, producers and other special guests.
Even Katie Couric got in on the act.
The evening showcased a wide range of topics that include maternal health, opioid abuse, gender identity, autism, sexual assault and mental health. 
Overall, the awards recognize exemplary storylines about health, safety and security in broadcast and cable programs, original streaming network shows and TV movies. The categories this year were Drama, Comedy, Children's Programming, Documentary, Short Documentary, Talk Show and Unscripted Series. Since 1999, the Sentinel Awards have been sponsored by the Centers for Disease Control and Prevention and presented by HH&S, a program of the Lear Center and a free resource for writers and producers in search of accurate information on a wide range of topics. 
---
More photos | Watch highlights
---
Producer Norman Lear presented awards to the two honorees in the Comedy category. ABC's black-ish was singled out for a storyline in the episode titled "Sprinkles" in which the character Bow (played by Tracee Ellis Ross) is diagnosed with preeclampsia, a potentially life-threatening condition during pregnancy. Co-executive producer Laura Gutin Peterson, the writer of the episode, said the story was based on the personal experience of showrunner Kenya Barris and his wife, Dr. Rainbow Edwards-Barris, during her pregnancy and birth of their child.
FXX's You're the Worst was recognized for an episode titled "Twenty-Two" that featured the character Edgar, an Iraqi War veteran, struggling with PTSD. Accepting the award were the show's supervising producers Franklin Hardy and Shane Kosakowski. The episode's title, Hardy said, reflects the fact that 22 war veterans—many suffering from PTSD—commit suicide every day in the U.S.
Couric, whose National Geographic show, Gender Revolution: A Journey With Katie Couric, was recognized in the Documentary category, sent her thanks and congratulations to the other honorees in a short video shown at the event. Couric was in Nebraska filming for her new series.
In accepting the award for the documentary, which explored biological genetics and sexual orientation, executive producer Jeremy Simmons said: "As storytellers we must go out and tell the stories that matter … it makes a difference."
An honoree recognized in the Short Documentary category, HBO's Open Your Eyes, examined how local health officials in Nepal—with support from the Seva Foundation, a nonprofit eye health organization based in Berkeley—organized and arranged free surgeries for Nepali farmers whose eyesight was damaged by cataracts caused by the harsh sunlight. The documentary spotlights the story of Manisara and Durga Gaha, an elderly blind couple living in the Himalayas who are found by a mobile team in their remote mountainside village and brought to a hospital in Palpa where the surgery is performed.
At first reluctant to make the arduous trip, Manisara has a change of heart. She talks about how she has never seen her granddaughter before. In a scene from the film, Manisara holds the girl and wonders if their toes and noses are alike.
"Soon I will know," Manisara tells her.
Accepting the award were one of the documentary's producers, Dr. Larry Brilliant, a co-founder of Seva, and its director, Portland-based filmmaker Irene Taylor Brodsky, who shot seven hours of raw footage over three days in the rugged mountain terrain of Nepal.
"Nearly 40 million people worlwide are blind, mostly from cataracts," Brilliant told the audience. "And 90 percent of them live in the poorest countries." He said most can be cured by a simple surgery that removes the cataract and in its place implants an intraocular lens made of plastic. Cost for the lens: Less than $2.
In the Children's Programming category, HBO's Sesame Street was honored for its introduction of a new character on the show, Julia, who has autism. Christine Ferraro, the writer of the episode titled "Meet Julia," said the goal with Julia "was to show that she's a kid, like other kids, with the same wants and needs."
"We wanted to dispel the misunderstandings and the stigma of autism," Ferraro said.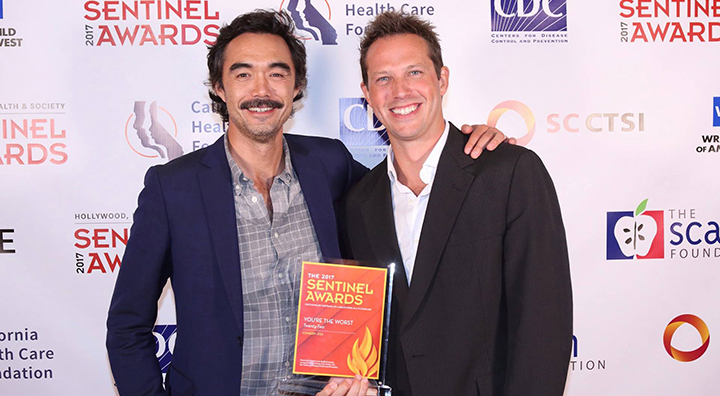 The seven cast members of A&E's Born This Way, the winner last year in the Unscripted Series category, returned to pick up their second consecutive award. Steven Clark, joined onstage by fellow cast members Megan Bomgaars, Elena Ashmore, John Tucker, Rachel Osterbach, Sean McElwee and Cristina Sanz, presented the award to the show's executive producer, Laura Korkoian.
"We're the little engine that could," said Korkoian in recalling how the show—when first pitched—was initially met with widespread rejection by TV executives. Korkoian said the series has recently been renewed for a fourth season. 
The series has had a groundbreaking effect," she said, "not only on the Down syndrome community but on the community at large."
Also honored for the second consecutive year in the Talk Show category was HBO's Last Week Tonight with John Oliver for a report on the opioid epidemic in the U.S.
There were two honorees in the Drama category: ABC's long-running medical series Grey's Anatomy and a fairly new kid on the entertainment block, NBC's This Is Us, a generational look at the intertwined lives of one family. The episode "Jack Pearson's Son" was recognized for its portrayal of mental health issues.
This Is Us producer Vera Herbert told the audience: "Our show is not about extraordinary people. It's about ordinary people with ordinary problems who find within themselves extraordinary wells of hope, love, compassion and strength for themselves and each other."
Grey's Anatomy was honored for its multi-episode storyline about inflammatory breast cancer. On the show, Dr. Margaret Pierce's stepmother, Diane, arrives at the hospital and is diagnosed with IBC, a rare but aggressive form of the disease that proves fatal in her case.
On hand to present the Sentinel Award to executive producers Bill Harper and Dr. Zoanne Clack was actress Kelly McCreary, who plays Maggie Pierce on the show.
"I had never heard of inflammatory breast cancer before this storyline," McCreary said. "As artists who work in television, any story that we might tell that might save lives but also prevent unnecessary heartbreak and keep families intact is a humbling endeavor. When we can use the enormous platform that we have to educate and raise awareness, our TV show becomes more than escapist entertainment and performs a public service."
Harper said the idea for the storyline came to him following the death of a very good friend from inflammatory breast cancer. 
He said he initially felt "terrible" about using a friend's personal tragedy as a way to solve a story problem. But his guilt was somewhat eased by the show's "honest and truthful" telling of the topic, and by a subsequent letter that the show received from a woman who said she was prompted to see an oncologist after watching the Grey's Anatomy episodes. She had been told previously by two other doctors that the rash on her breast was nothing to worry about, but the cancer specialist diagnosed her with IBC. She promptly received treatment and Harper said that the woman's prognosis was very good.
---
The 2017 Sentinel Awards honorees:
Drama
Grey's Anatomy—Maggie's Mom storyline (ABC)
Topic: Inflammatory breast cancer
This Is Us—Jack Pearson's Son (NBC)
Topic: Mental health
Comedy
black-ish—Sprinkles (ABC)
Topic: Preeclampsia
You're the Worst—Twenty-Two (FXX)
Topic: PTSD
Children's Programming
Sesame Street—Meet Julia (HBO)
Topic: Autism
Documentary
Audrie & Daisy (Netflix)
Topic: Sexual assault
Gender Revolution: A Journey With Katie Couric (National Geographic)
Topic: Gender identity
Short Documentary
Open Your Eyes (HBO)
Topic: Eye health
Extremis (Netflix)
Topic: End-of-life care
Talk Show
Last Week Tonight with John Oliver—Episode 86 (HBO)
Topic: Opioid abuse
Unscripted Series
Born This Way—Dream Come True (A&E)
Topic: Down syndrome
---
How Entries Are Judged
The Sentinel Awards recognize the exemplary achievements of television storylines and movies that inform, educate and motivate viewers to make choices for healthier and safer lives. Each entry is screened by Hollywood, Health & Society staff for eligibility. Qualifying entries are evaluated in two rounds of judging. In the first round, each storyline is reviewed for accuracy by a panel of topic experts who take the following into consideration. Does the storyline: 1) Demonstrate the causes of the health/climate problem 2) Show how the health/climate problem can be prevented 3) Show how a character's choices can affect his/her health or safety 4) Explain how the health/climate topic impacts the lives and relationships of characters 5) Portray characters at greatest risk from the health/climate problem 6) Address and debunk common myths about the health/climate issue 7) Demonstrate professional standards and practices observed by healthcare providers or climate professionals 8) Have the potential to positively affect viewers' knowledge, attitudes and behaviors regarding the health/climate topic? Finalists from the first round of judging are then reviewed by a panel of invited experts from public health, academic and entertainment organizations. The entries are evaluated on the following criteria:
1) The potential benefit to the viewing audience 2) Entertainment value.