Telling Life Stories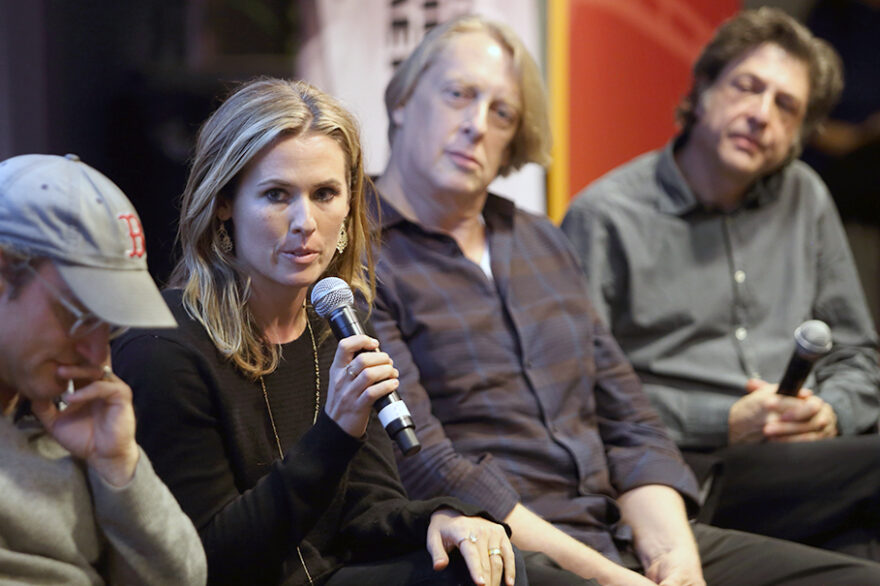 Hollywood, Health & Society's panel event, "Telling Life Stories: Crisis and Care at the Beginning, Middle and End," drew a full house to the WGAW, where writers and producers from four leading network, cable and streaming TV shows—joined by experts and local storytellers— explored the issues of aging and health care.
The panel featured writer-producer Norman Lear, the creator of such landmark shows as All in the Family and Maude; Dr. Zoanne Clack, executive producer for the ABC series Grey's Anatomy; Katie Elmore Mota, executive producer of Hulu's East Los High; Stephen Hootstein, writer and co-executive producer for NBC's Chicago Med; and Will Scheffer & Mark V. Olsen, creators and executive producers for HBO's Getting On, a comedy about the staff and patients at a long-range care facility. HH&S Director Kate Folb served as moderator.
More photos | Watch highlights
Following the panel, the writers and producers broke up into smaller breakout sessions with audience members and delved into the umbrella topic of health care and issues related to aging and undocumented immigrants. The smaller table meetings included experts Dr. Bruce Chernof, president and chief executive officer of The SCAN Foundation; Dr. Scott Kaiser, a geriatrician and chief innovation officer at the Motion Picture & Television Fund; Joseph Villela, senior policy advocate at the Coalition for Humane Immigrant Rights of Los Angeles; Maria Romero-Mora, program coordinator at California Coverage and Health Initiatives; and Juanita Ontiveros, chair of the United Farm Workers Support Committee for Northern California and director of community advocacy for the California Rural Legal Assistance Foundation. 
While a growing diversity of characters in storylines—from minorities to the LGBT community—has enriched and deepened TV entertainment, ageism remains a stubborn presence, both on the screen and in the writers rooms. 
America, it seems, is still not a country for old men—or women.
Is old age not sexy enough? 
TV's long disregard for older adults—despite the fact that viewers 65 and older have plenty of disposable income to burn—is rooted in some distant, creaky advertising rule centered on the holy grail of consumers, the 18- to 39-year-old demographic. Back in the beginning, Lear said, at the dawn of the TV age, sponsors believed that if you sold a Chevy (or any one of a number of products) to a young married couple, you secured their loyalty to the brand for life.
"We're [told] that old isn't sexy, and I think that's a problem we're facing as a culture."—Katie Elmore Mota
Lear himself has been pitching an idea for several years for a new show that takes place against the backdrop of a retirement village. He's calling it Guess Who Died?, but Lear told the audience that he's had no luck getting interest from any studio. Another project, a reboot of his '80s show One Day at a Time with a Latino cast, has been greenlighted by Netflix. (In an interview that appeared on the website Next Avenue, Lear talked about his efforts to get Guess Who Died? on the air, saying: "We're the fastest growing demographic with the most expendable income and no representation. It's ridiculous.")
"Television is still not reflective of what audiences want" and, to a larger extent, is not representative of the U.S. population, said Elmore Mota, whose teen drama features a group of Latino high school students and their friends and families in a working-class neighborhood in East Los Angeles. 
"Family is hugely important on East Los High, and seeing that cross-generational conversation happening is so important," she said. "We're [told] that old isn't sexy, and I think that's a problem we're facing as a culture. We've been sold these same stories that you have to be young, white and rich to be on primetime television and it's not true."
The panel conversation moved over to health care, with Clack dismissing the notion that Grey's Anatomy ever receives network pushback when it comes to depicting such potentially political topics as Medicare and Medicaid, the Affordable Care Act and immigration. 
"I'm in Shonda-land," she said, alluding to the fact that she works for Shonda Rhimes, one of the most powerful showrunners in Hollywood who's responsible for some of the highest-rated dramas on TV, including Grey's Anatomy, Scandal and How to Get Away With Murder. "We don't really get network pushback."
---
Order of video clips below (from top): panel highlights; veteran TV writer Irma Kalish; Motion Picture & Television Fund retirement community resident Bob Mirisch, SCAN Foundation president Dr. Bruce Chernof