Women in Their Prime Time: Aging In (and Out of) Hollywood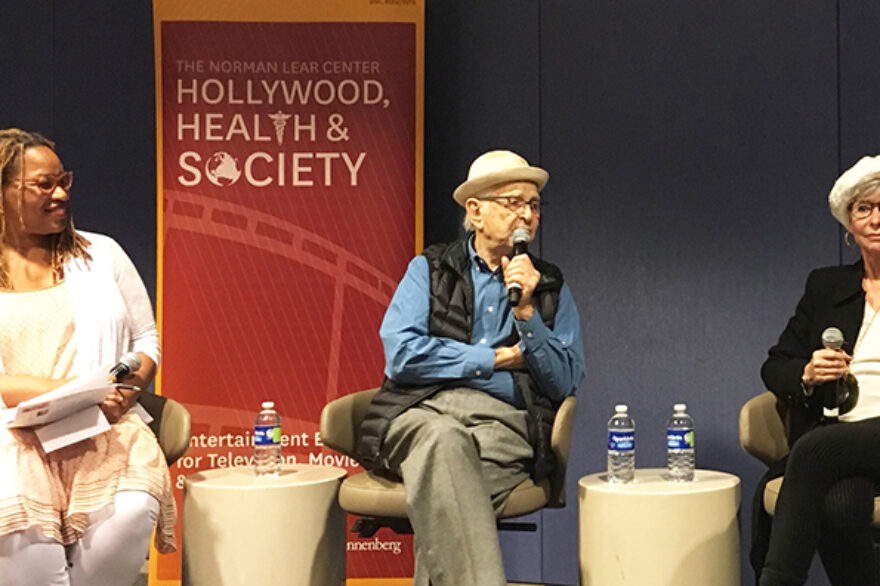 This time, TV and film legends Norman Lear and Rita Moreno cruised into an event under their own power. Although the panel they were a featured part of, "Women in Their Prime Time: Aging in (and Out of) Hollywood," couldn't boast of a red carpet—which Lear and Moreno used as their own personal boulevard back in January when they arrived for the Golden Globes on a motorized scooter—the discussion covered important ground on the portrayals of older women in entertainment.
Joining Lear and Moreno were Alexa Junge, executive producer of Grace and Frankie (Netflix); Dr. Zoanne Clack, executive producer of ABC's long-running medical show Grey's Anatomy; Dr. Bruce Chernof, president of The SCAN Foundation; and Chia Chia Sun, clinician and genetic cancer researcher, and author affiliated with the North American Menopause Society. Dr. Clack, co-chair of the HH&S advisory board, served as moderator. David Goodman, executive producer of the TV series The Orville, president of the WGAW, and also board co-chair, delivered opening remarks.
---
Watch the discussion | More photos
---
The event was presented by Hollywood, Health & Society, in collaboration with the WGAW's Career Longevity Committee and Committee of Women Writers.
The scarcity of roles for older women on TV—and older adults in general—is striking. A 2017 study of 72 shows done by the USC Annenberg School of Communication and Journalism, "Seniors on the Small Screen: Aging in Popular Television Content," found that people ages 60 and older made up only 9.4% of speaking roles, and older adults accounted for only 8.2% of series-regular roles on the shows surveyed.
The study, reported on in Variety, found that "among senior roles, diversity was scarce. Only 30% of all roles for characters ages 60 and older were female. Thirty-eight of the 72 programs surveyed had no female senior role."
Lear, who fought for years to get a TV project about older adults off the ground, said he was always met with the same reaction from networks after his pitch: "Funny, but not our demographic"—referring to the long-held belief among executives that the 18-to-49 age group was the Holy Grail when it came to the ideal audience. Younger, more affluent and in the market to buy stuff.
That's changing, said Junge, who pointed out that 50% of the TV-viewing population are 50 and older—and 70% of that segment are women. Women with disposable income.
"But being on [Netflix] helps," Junge said about her show, which follows two women (played by Jane Fonda and Lily Tomlin) as they reclaim their lives following the breakup of their marriages. "We're not trying to reach advertisers. It's a totally different situation."
Even a legendary performer like Moreno, who's garnered a long line of awards in a 70-year career, acknowledged her difficulty working in an industry where many older working actresses become invisible.
She co-stars in the critically acclaimed remake of Lear's classic sitcom One Day at a Time on Netflix, which this time centers on a Cuban-American family. The show has just been renewed for a third season. Moreno belongs to an elite group of only 12 living performers who have earned entertainment's "grand slam" of prestigious awards: She's won an Academy Award for her role as Anita in West Side Story (1962); a Grammy for her performance on The Electric Company album (1972), based on the long-running children's television series; a Tony Award for her comedic turn as Googie Gomez in Broadway's The Ritz (1975); and two Emmys—the first for a 1977 variety appearance on The Muppet Show and the following year for a supporting role she played on The Rockford Files. In 2015 she was a recipient of the Kennedy Center Honors for her lifetime contributions to American culture.
But today, "the struggle is very poignant [to keep working]," Moreno said. "I've had great successes and great disappearances."
And though she's found a new audience and fan base with the Netflix comedy, playing the abuela Lydia, she laments the kind of roles actresses such as herself fall into.
"I'd love to see someone my age play just a person, not a grandmother," Moreno said. "It's always a grandmother."
Lear, whose TV shows such as All in the Family, Maude, The Jeffersons and Good Times often tackled serious issues such as racism, abortion and sexuality, is a political and social activist and phi­lanthropist. He also is a recipient of the Kennedy Center Honors—in December 2017—for his impact on American entertainment. The TV icon's newest project, in collaboration with producer Peter Tolan, is "Guess Who Died," a comedy set in a Palm Springs retirement community that just finished shooting under a pilot production commitment from NBC. It stars Hector Elizondo, Holland Taylor and Christopher Lloyd. 
Lear's' autobiography, "Even This I Get to Experience," was published in 2014. ◼︎