Panel and Screening of "Inuk" at Directors Guild Theater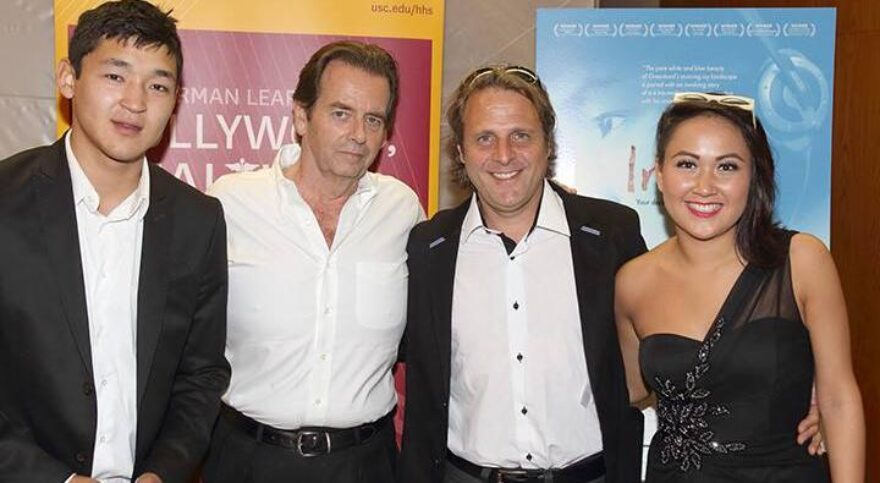 A NASA-JPL climate scientist made the global come into sharp local focus when he was asked during a recent panel about the vanishing ice in northern Greenland, the dramatic backdrop for the film Inuk and its story of traditional ways being threatened by global warming.
➻More photos on our Facebook page here
➻Watch a video of the panel here
➻Download the transcript here
What's the connection to our own lives, asked moderator Martin Kaplan, director of the USC Annenberg Norman Lear Center. "It's still possible to say, well, that's there and we're here," Kaplan said.
It turns out, Southern California and the Arctic have a lot more in common than you might think.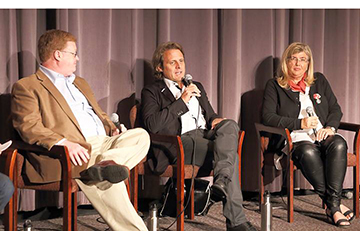 Mike Gunson, manage of the global change and energy program at NASA-JPL, said Southern California was facing its own loss of a vital frozen resource—snowpack—that feeds our water supply originally from high in the Sierras. With climate change, warming temperatures and milder winters, the snowpack has been retreating. "We live in a semi-arid environment that's only made possible by the availability of frozen snow water that we live off the melt every year," said Gunson, who's also a project scientist for NASA-JPL's orbiting carbon observatory. "In the next 20 years we will see changes in our access to that water."
At the same time, he said, we've been using ground water (Gunson called it "fossil water") to meet our needs, which has been down there for millennia—in a way, living off our savings.
"We're all are going to see the impact on fresh available water [in Southern California]," Gunson told the audience. "We're going to lose the snow, the ice that we depend on."
Returning to the larger environmental picture, Gunson said that NASA sensors monitoring ice cover in the Arctic are seeing no buildup from year to year of old ice. "Every year the Arctic sea has to freeze over fresh, to form new ice every season," he said.
The scientist said that there's a strong probability that the Arctic Ocean will be ice-free in our lifetime, a statement that Kaplan called "startling."
In his remarks, Gunson indicated that we're beyond the point of no return when it comes to global warming. The rate at which carbon dioxide (the main greenhouse gas) builds up and stays in the atmosphere is measured in centuries, he said. Geoengineering methods to solve climate change are "interesting" but won't return the planet to the atmospheric conditions of 50 years ago.
"We could be depressed listening to you, or watching [Inuk]," Kaplan told Gunson, "so how can you talk us down from this ledge? What can we do?
"We're adaptable," Gunson said. "I think we can adapt. The worry is where people are right on the fringe. They're the people who pay the price. I believe you've got to be optimistic. But it's a new world we're going to be living in."
He added: "Do one small thing every day. It's about consumption. Everything you get comes with a carbon footprint. Take one small step in reducing your carbon footprint."
The panel and Q&A at the Directors Guild Theater followed an invitation-only screening of the award-winning film, which was presented by Hollywood, Health & Society, a program of The Lear Center, as part of its storytelling initiative to increase the number of climate change storylines in TV, film and new media. The special evening drew industry writers and producers along with the film's makers and cast, including director Mike Magidson, producer Anne Andreasen and the movie's two young leads—Gaaba Petersen, who plays Inuk, and Sara Lyberth.
Magidson and Andreasen joined Gunson on the panel, along with another of the film's co-stars, Rebekka Jørgensen.
Rather than preach, Inuk whispers its message about the impact of climate change in a country undergoing transition, where traditional Inuit ways rooted in a centuries-old relationship with the ice are slowly becoming undone. For the Inuit, the film's voice-over says at one point, ice is their soul.
Magidson, who has worked in Greenland for the last dozen or so years, said the shortening ice season is affecting hunters, who have seen what once used to be six months of solid ice dwindle down to about six weeks.
Andreasen has lived in Greenland for more than 25 years, and said that she has witnessed the rapid disappearance of ice, with the process accelerating every year. The forces of change, she said, always hit the weakest in society first.
"When we have climate change, we have culture change," she said.
Top photo: "Inuk" actor Gaaba Petersen (left) with producer Thom Mount, CEO of the Mount Company, writer-director Mike Magidson and co-star Sara Lyberth. Photos by Steve Cohn