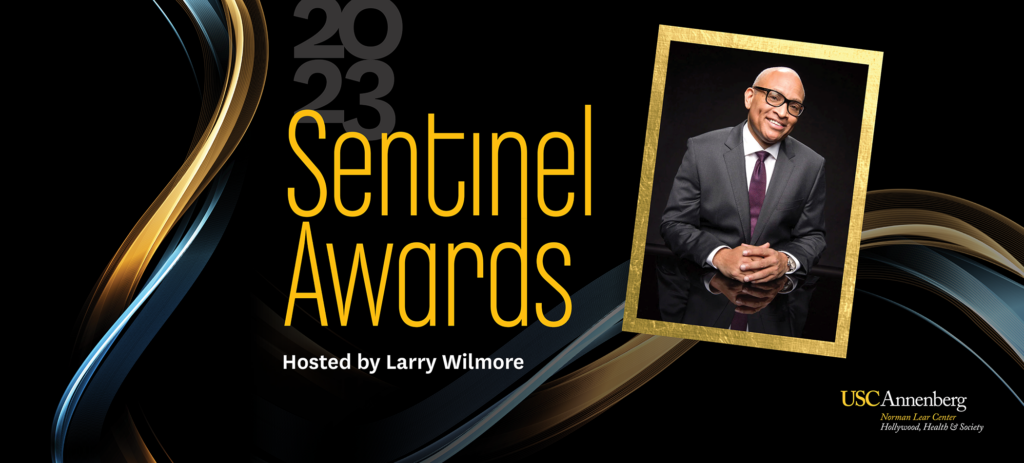 Emmy winner, comedian, producer, writer and actor Larry Wilmore will host the 2023 Sentinel Awards, which celebrate some of the best and most challenging TV entertainment of the past year that made a difference in viewers' lives. The red-carpet event will be held on Dec. 6 at the Writers Guild Theater in Beverly Hills. The final 11 honorees, submitted by broadcast, cable and streaming networks and representing a range of topics on health, safety and security, will be announced at the ceremony.
Wilmore is host of the podcast "Black on the Air," where he interviews guests from politics, entertainment and sports. He hosted The Nightly Show with Larry Wilmore on Comedy Central, which premiered in 2015 and ran for nearly two years, and he has written for In Living Color, The PJ's, The Office, and The Fresh Prince of Bel-Air. Wilmore was also creator, writer, and executive producer of The Bernie Mac Show, which earned him a 2002 Emmy Award for "Outstanding Writing for a Comedy Series" and a Peabody Award in 2001.
Last year's awards, held in October at the Television Academy, drew stars such as Quinta Brunson and Tyler James Williams of Abbott Elementary; Hannah Einbinder and Paul W. Downs of Hacks; Sarah Podemski from Reservation Dogs; Shoniqua Shandai, Jerrie Johnson and Meagan Good of Harlem; and Allison Miller from A Million Little Things. Sterlin Harjo, Reservation Dogs co-creator and showrunner,and Dopesick creator/writer/director Danny Strong accepted their honors in taped remarks. Actress, producer and host Yvette Nicole Brown, whose credits include roles and appearances on Big Shot, Community, Mom, Family Guy, Curb Your Enthusiasm and A Black Lady Sketch Show, which earned her a 2021 Primetime Emmy nomination, was the host.
The annual celebration recognized 12 shows whose storytelling tackled powerful and timely topics, including Emmy nominees and winners Dopesick, Abbott Elementary and Hacks, as well as A Million Little Things, Never Have I Ever and Reservation Dogs, the breakout coming-of-age series about four indigenous teen-age friends living in rural Oklahoma. Reservation Dogs received a Culture of Health Award for its entire Season 1 body of work that covered healthcare and economic disparities, aging and caregiving, mental health, suicide and racism.
Hollywood, Health & Society (HH&S), a program of the USC Annenberg Norman Lear Center, is the presenter of the awards event.
For more than 20 years, the Sentinel Awards have recognized exemplary achievements in TV storylines that inform, educate and motivate viewers to make choices for healthier and safer lives. For audiences here and around the world, television often provides both entertainment and factual information about a wide range of health topics and social issues. Today, fighting widespread misinformation with facts has never been more important, and HH&S helps TV storytellers find the facts they need to "get it right."
As the entertainment landscape expands and programs continue to push boundaries, topics such as disease, injury, maternal health, disability, violence, discrimination and more are being explored through dynamic storytelling.
Funding for Hollywood, Health & Society comes from the California Dept. of Water Resources, the California Health Care Foundation, End Well, Future of Life Institute, John Pritzker Family Fund, Ogilvy, the Plastic Pollution Coalition, the Quincy Institute for Responsible Statecraft; the Robert Wood Johnson Foundation, and the Southern California Clinical and Translational Science Institute. The program, now celebrating more than 20 years of service to the TV entertainment industry, serves as a free resource by providing expert consultations and briefings, panel discussions, screenings, custom research trips, social media and more.